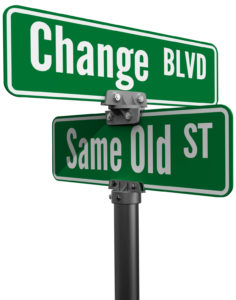 I was working recently with a company on an employee engagement project. 
At one of the breaks, a first-line manager came up to me and said that he hated working in the company. 
I asked him if he had spoken to his boss about this, he said this would make no difference. 
I asked him if he thought about doing a night course, a day course, a weekend course, or a correspondence course 
to get himself out of this rut? 
"If he was not interested in studying, what about looking to work for free at weekends with a local business to gain some practical skills in other areas".? 
"Mark, I'm not interested," he said.
I enquired again, "what are you going to do, to get out of this rut you are in?"
"I'm going to stay in the company, I'm here for the pension".  
He was 24 years of age! 
Humans are unique in our ability to willingly change. 
We can change our attitude, our appearance, our skills, but only when we want to.
The hardest part isn't the changing, it's the wanting to!
Are you prepared to take self-responsibility, for making the changes you want in your life?