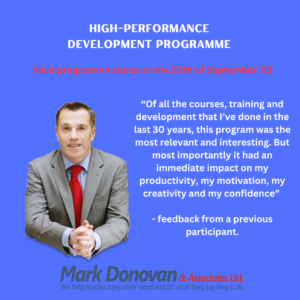 My next programme starts on the 20th of September '23 (it is 5 days spread over 4 months). 
The normal cost per participant is €1,500, I have managed to get limited skillnet funding of 30%, so the cost to you is €1,050.
"Of all the courses, training and development that I've done in the last 30 years, this programme was the most relevant and interesting. But most importantly it had an immediate impact on my productivity, my motivation, my creativity and my confidence", feedback from a programme participant.
If you are ready to transform yourself and take your career to a new level, ready to lead and contribute in a whole new way. This is the programme for you.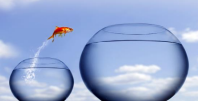 Aim of the programme:
In today's fast-changing business world, simply working harder will not be enough. Relying solely on your functional skills and expertise will no longer be enough. Even accumulating more years of experience will not be enough.
I'm going to provide a programme that will be high-energy, candid, practical and inspirational in four key areas:
1. Personal Best: How to magnify your strengths and reach new levels of confidence
2. Interpersonal Best: How to deal more effectively with conflict and sharpen your influence
3. Professional Best: How to polish your image and increase your appeal to customers, staff and other key stakeholders
4. Big Stretch: How to change through personal accountability, discipline, and resolve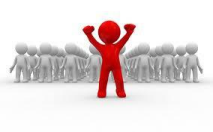 This programme will: 
1. Transform you from being a 'competent' employee/manager/business owner to a sought-after, difficult-to-replace talent 
2. Give you the tools to do your job more effectively and accomplish more with less stress
3. Discover hidden opportunities to grow, get promoted and achieve more in life 
4. Help you prosper in fast-changing times 
5. Improve the value-added contribution of your team or department 
6. Maximise your productivity on a daily basis 
7. Develop an attitude of 'healthy selfishness' 
8. Build a powerful personal Brand 
9. Build Resolve- This is more than accountability and discipline. It is that set of learnable skills and behaviours that provide for growth, sustained improvement, and acceleration 
10. Return to work with a dynamic, exciting and new performance skills toolbox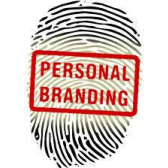 Areas we will be covering: 
– What will make you an effective and memorable leader? 
– Recognizing our strengths and areas for development 
– Building confidence and self-esteem 
– Being liked versus being respected 
– Developing your personal brand 
– Effective performance evaluation and feedback 
– Communication skills that will influence and get results 
– Holding up the mirror – knowing who I am and how others perceive me 
– Presentation influencing skills 
– Delegation – moving from a rower to a steerer!
– Avoiding the 'ostrich effect'- dealing with under-performing and difficult staff 
– Managing upwards 
– Put your own oxygen mask on first – techniques for dealing with pressure and stress 'Listen to the whispers and you won't have to listen to the screams' – effective ones-to-ones.
Timing & Venue: Carlton Hotel Dublin Airport.
This will be 5 days spread over four months (see dates below).
Dates:
Group session 1: Wednesday 20th September
Group session 2: Wednesday 4th October
Group session 3: Wednesday 25th October
Group session 4: Wednesday 15th November
Group session 5: Wednesday 6th December
Investment: €1,050 per participant 
To sign up for Mark Donovan's High-Performance Development Programme call 086 3840132 or email mark@markdonovan.ie
Comments from Previous Programme Participants:
"This was the most influential course I've attended to date", Melissa Finneran, Manager, Allied Irish Banks (A.I.B.)
"Would recommend this programme to others, Mark is an excellent support to any organisation, he really takes the time to get to know the individuals and identify and deal with their skills gaps", Diane Hogarty, Cadburys
"This programme has changed my management approach significantly for the better", Colum Colbert, Manager, Paddy Power
"Very effective took me out of my comfort zone, really built my skills to handle my business challenges more effectively", Clodagh Strahan, Manager Virgin Media
"The course was brilliant, Mark has given me the tools to handle the key situations I will come across in the workplace. I have no hesitation in telling my employers how successful the course has been", Colin Daly, Manager Intra Snack Foods (Tayto)
"Really appreciate the time you took to 'coax me' to do the programme as it was an excellent investment for me and my business," Donal Mc Grath, Director, MCG Consulting
"Highly satisfied, an excellent approach to developing my key leadership skills", Campbell Scott, Manager Virgin Media
"Mark used his excellent consulting skills to help us create a new agenda that will drive significantly higher levels of performance for the business ", Gary Brady, Managing Director, Thornton's Re-Cycling